OEM Approved Solutions to Vehicle Security Access Requirements
Bosch ADS Series tools are FCA approved for secure access to unlock the Secure Gateway Module (SGW) found in late model vehicles - seamlessly and within seconds.*
* Requires AutoAuth Subscription
What is Secure Gateway Module (SGW) and what is impacted?
More OEMs are implementing security measures on newer vehicle models to protect the vehicle's communication networks from potential cyber-attack exposure and hacking
Starting with most 2018 models, FCA implemented a Secure Gateway Module (SGW), similar to a "firewall", to protect the vehicle network
Only certified diagnostic tools with Wi-Fi access are compliant to properly unlock the gateway's tester authentication process to perform these diagnostic functions
Functions requiring SGW unlock:

Clearing DTCs
All bi-directional functions (calibrations, relearns, actuations, and adjustments)
What are the requirements to access
SGW-equipped vehicles?
Unlocking FCA Secure Gateway Module-protected vehicles with Bosch ADS requires 2 steps:
AutoAuth Account Set-up:
Complete a one-time account setup and tool registration with AutoAuth
Bosch ADS Tool Requirements
Update to the version 4.0 or higher software, connected to Wi-Fi and enter AutoAuth credentials when prompted on tool
Get set up with AutoAuth
Shop Owners
Create your shop account
Annual fee applies
Add techs as users to Shop Account
The first six users, including the shop owner, are included with the standard fee. Add up to 100 additional users for a minimal fee.
Add up to 100 scan tools
Technicians
Provide your username to the shop owner to be added to the shop account
Any registered user can use any tool within a registered Shop Account. A scan tool serial number can only be assigned to one shop in the AutoAuth system.
Bosch ADS Seamless SGW Access
After AutoAuth account is set-up, confirm your ADS tool is updated to the version 4.0 or higher software and connected to WiFi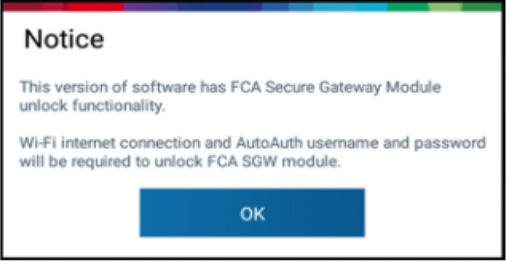 Upon ID'ing the vehicle on Bosch ADS, you will be notified if the vehicle is SGW-equipped.
Functions that requiring unlocking (clearing DTCs, bi-directional functions) will prompt for AutoAuth username and password.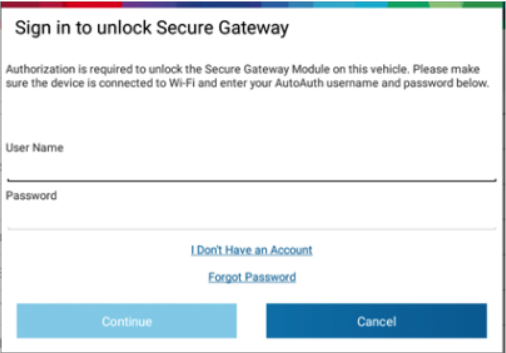 Upon entering a valid username and password, select "Continue". Your credentials and diagnostic tool are now authenticated online, and ready to unlock the SGW!